In 2017 the Humane Society of St. Joseph County took in over 1,000 owner surrendered pets. There are many reasons owners can no longer care for their pets, however we are here to help provide you with other positive alternatives to surrendering your pet to our shelter. Check out our Pet Behavior & Training Resources for tips & tricks to help keep your pet at home.
LOOKING TO REHOME YOUR PET
If a lack of resources is the reason you're giving up your pet – click HERE to see what services are available in our area. Our goal is to keep pets in their homes but we understand that sometimes rehoming your pet is a difficult but necessary step.
WHAT ARE YOUR OPTIONS
We encourage you to rehome your pet through Adopt a Pet. This FREE resource allows you to keep your animal in your home and out of the shelter. Plus, YOU get to handle the entire adoption process with the guidance of the trained staff at Adopt a Pet. The shelter can be a stressful place for pets and we encourage everyone to explore this option before surrendering their pet to us. You are also the expert when it comes to your pet and can help people get to know them better than anyone.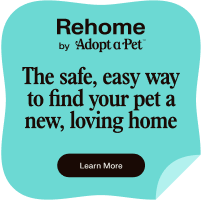 HOW DOES IT WORK
Adopt a Pet has made the process so easy for pet owners! In a simple four step process you will be able to find your pet a loving home all without ever having to go to the shelter.
SURRENDER YOUR PET TO THE SHELTER
As stated by The Million Cat Challenge website, "animals and people are better served when intake is matched with capacity for care and the ability to assure an appropriate outcome for each animal within a reasonable time frame. 'Managed admission' refers to any steps taken by a shelter to provide this assurance." To ensure appropriate staffing resources are available to take in your pet and to "fast track" this animal into our adoption program, a surrender appointment will be made. During this appointment, HSSJC staff will collect important information about your pet including veterinary records, behavior and special needs information, and collect an owner surrender survey. Surrender appointments may last up to 30 minutes.
If you absolutely cannot keep your pet in your home and need to surrender it, please contact our office at (574) 255-4726 ext 0 to schedule an owner surrender appointment as part of our Managed Admissions Initiative. Humane Society staff will help you in the pet surrender process. We appreciate your wiliness to help ensure positive outcomes for surrender pets by following these guidelines. Click below to download the appropriate owner surrender survey. Please have this survey filled out and present it at your surrender appointment.
Please note, at this time we are only able to accept owner surrendered pets from our jurisdiction. Please call for more information.
Surrender a Stray
We only accept stray animals that are found within our jurisdiction. You may be directed to another animal control agency for surrender. Call ahead to make sure we are your local animal control agency prior to bringing the animal to the shelter. We are available Monday-Saturday from 8:30am-5:30pm for stray surrenders.
Bring your state issued ID with current address.
If the animal is a stray, you may call for an Animal Control Officer to pick up the animal. Officers are available Monday-Saturday from 8:30am-5:30pm. They are also available for emergency call out at other times.
If the animal is a stray, you may hold the animal in your home and file a found report with our office. You may file this report online HERE. Reporting the animal is required to allow the owner a better chance of locating their lost pet. They will see your report posted at the shelter each time they visit. You will also need to bring the animal to the shelter during normal business hours to allow us to scan the pet for a microchip. You may continue to hold the animal at your home. After fourteen days from the filing the found animal report, if the owner does not claim the animal, you will become the legal owner. Remember, the animal must be presented to the shelter for microchip scanning prior to legal ownership.
 How Long Are Animals Held at the Shelter
An animal turned in by its owner is immediately the property of the Humane Society and may go into the adoption program, transferred to another animal welfare organization, or humanely euthanized for serious health or behavior issues.
Stray animals are held as strays for the legal "stray-hold" time as described in the animal control ordinance of which the animal was found. The stray hold period varies between as little as one day to 14 days depending on a number of factors. It is very important that an owner comes in to do a walk-through of our stray-hold area as soon as possible during Business Hours (Monday-Saturday 8:30am-5:30pm).
After the stray hold is up, the Humane Society owns the animal and may then:

evaluate the animal for our adoption program.
evaluate the animal for transfer to a rescue partner agency
humanely euthanize the animal in the event of advanced illness, aggression, or other cause as deemed necessary.
An injured or severely ill stray animal will be medically evaluated and may be humanely euthanized to prevent further suffering prior to the end of the legal holding period according to the county and city ordinances.
How Long Are Adoption Animals Held
We are happy to say that adoption animals have no time frame for being held. They will remain in the adoption program until adopted. Only under rare circumstances is an adoption animal removed from the program. Even then, the animal may receive additional assistance to then be returned to the program.